The Best 5 Places to Consume Cannabis in Canada this Summer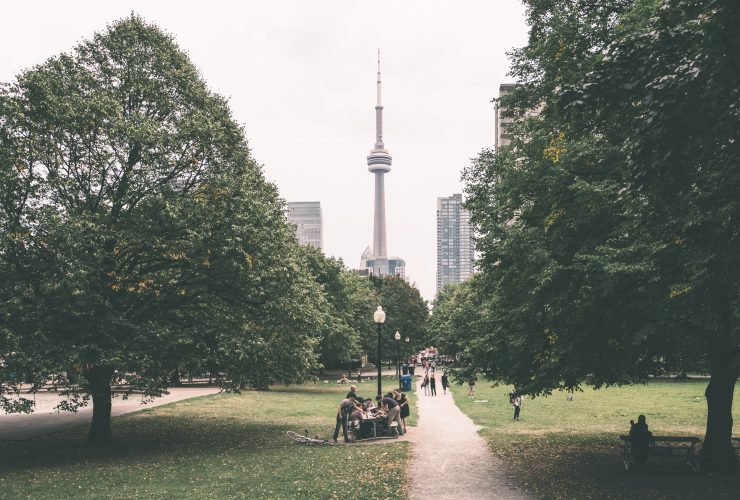 Written by Strainprint
The Best 5 Places to Consume Cannabis in Canada this Summer
Canada is becoming green all over with more and more establishments offering a welcoming space for patrons to consume their cannabis without shame or guilt
It is no average summer in Canada, this year marks the first official summer season since cannabis was legalized on a federal level. That means both medical and recreational consumers can enjoy their weed out in the sunshine after 100 years of prohibition. That said, remember to observe local smoking policies and consume responsibly when in public spaces. The following are some of the best places to get high in Canada, where you can vape and smoke to your heart's content.
Kensington Market, Toronto, Ontario
You simply cannot visit one of the countries most canna-friendly cities without strolling the streets and checking out the unique shops of Kensington Market. Located in Toronto, Ontario, this neighbourhood is considered to have had an overall friendly attitude towards cannabis for decades and it's not uncommon to catch a whiff of the green stuff while walking within the market area. While Kensington is no longer home to cannabis vape lounges, you can still check out the local scene and enjoy a puff at the HotBox POTio, a vape and smoke friendly patio.
Weed Walks at Hotel Zed, Kelowna British Columbia
'Rebels against the ordinary' is not just a slogan with Hotel Zed, an unpretentious hotel located in Kelowna, British Columbia. In addition to a bunch of fun activities on site, like ping pong, free bikes, roller skating and a mini disco, they also offer weed walks. They have cannabis friendly designated smoking areas on hotel property and offer tours of great locations in Kelowna. The walk has option of checking out the Galloping Goose Trail, local bookstores, a petting zoo, and, of course, food trucks and restaurants for any munchies that may arise.
Camping or Cottage Getaway, Anywhere, Canada
There is nothing quite like getting to consume cannabis in the great outdoors! Something about the fresh air and wide open spaces, paired with a strain rich in pinene, will make you appreciate nature on a different level. Enjoy a session around the fire with your friends, chatting and getting lost in the hypnotic flames. Remember to put out the amber of your cannabis and campfires completely to practice fire safety while you are in any sort of wilderness scenario. If camping isn't your scene, look if a cannabis friendly Bud and Breakfastis offered in your location so you can take advantage of the great outdoors and indoor plumbing.
Rolling Greens Golf Course, Smith Falls Ontario
The Rolling Greensis the first cannabis themed 18-hole golf course in Canada, proudly inviting patrons to 'come roll with us'. The course is located in Smith Falls Ontario, a town that self-proclaims to be the 'pot' capital of Canada. Rolling Greens brands themselves as a stoner-friendly facility, allowing golfers to light up as they complete their holes. If you aren't much of a golfer, they also offer disc golf, glow-in-the-dark mini-putt, an amusement area, and a drive-in movie theatre. Just remember to BYOB – bring your own bud.
Stoned Street Art Tours, Montreal, Quebec
Montreal is home to a bevy of street art, local artists contribute to murals, graffiti, and urban art all over the city. Popular street Saint-Laurent, features over 80 artists and hosts one of the largest art festivals in North America. In addition to checking out the street art, Saint-Laurent also has lots of vintage shops and local eateries where you can eat smoked meat and poutine. Montreal 420 toursoffers a guided tour of the murals on Saint-Laurent, where you can learn about famous artists and the underground art scene. They encourage you to enjoy your bud while they describe the cities cannabis history and the socio-economic implications of legalization. The tour also gives patrons tips for their time in Quebec, sharing local laws and 420 friendly places to visit.