Strainprint® Technologies Launches The Next Generation Of Its Award-Winning Mobile Cannabis Journal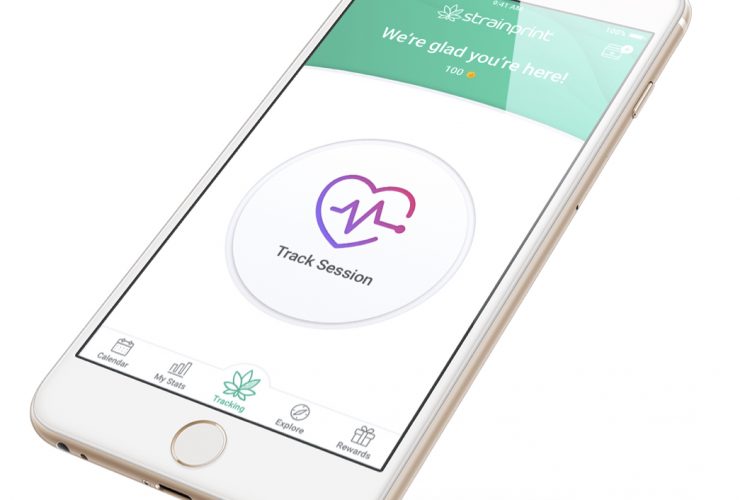 Written by Sharid Kamal
STRAINPRINT® TECHNOLOGIES LAUNCHES THE NEXT GENERATION OF ITS AWARD-WINNING MOBILE CANNABIS JOURNAL
New mobile app solidifies company as leading real-world cannabis research platform
TORONTO, FEB 9, 2021 – Strainprint® Technologies Ltd. ("Strainprint"), the leading cannabis research and data platform, today announced a major update to the Strainprint App. Launched in 2017, the Strainprint App has been used by tens of thousands of medical cannabis patients across North America to journal their use of thousands of lab-tested cannabis products in real-time. The mobile App is core to Strainprint's entire research ecosystem and has earned industry awards for helping patients. The NEW App is the company's first major overhaul since inception and features a fresh new interface with a simplified user experience for even the most novice users.
"This new release is the result of years of feedback from our loyal app users. With so many cannabis products available to people today, it can be incredibly overwhelming. We really wanted to take the confusion and guesswork out of using cannabis as a treatment," says Stephanie Karasick, Strainprint's Chief Creative Officer. "The new App is not only a very simple-to-use cannabis tracking journal, but also a handy resource to see what's working for others with shared symptoms."
The new App adds a number of key improvements, as well, including:
Enhanced "Explore" section featuring optimized product and symptom search tools, based on almost 2 million anonymized patient reported outcomes;
Updated and more user-friendly view into "MyStats," including full calendar functionality;
Smart vaporizer personalization for more accurate recording of temperature and dose settings;
New flexible "Notes" capability to add or adjust comments at any time during or after a session; and
A Star rating system to complement enhanced emotive outcomes tracking.
The new App will also significantly improve the ability for doctors and researchers to run their own private studies and for brands to validate and improve products.  Under the hood, advances have been made for multi-language support to serve international markets and customizable in-app notifications for controlled studies.  Most importantly, the new App remains grounded in Strainprint's unremitting focus on patient consent and privacy compliance for patients in all jurisdictions.
"We have never waivered from our goal of helping to advance the scientific understanding of cannabis," said Strainprint CEO, Andrew Muroff. "We've learned that our cannabis patients want to help others to learn from their experiences and we've developed an amazing platform to help them do that anonymously. Together, the community of Strainprint app users have tracked almost 2 million medical outcomes ("sessions"), creating the world's largest real world evidence study on cannabis."
Anonymous Strainprint data has been analyzed by researchers and peer-reviewed in medical journals for Anxiety & Depression, Headaches & Migraines, PTSD, Pain, OCD and Symptoms of Palliative Care. Strainprint works with doctors, pharmacists, brands, retailers and regulators to provide data-backed insights that ultimately help patients get the most out of their cannabis journey.
Strainprint® Technologies Ltd. is the leading cannabis research and data platform. Since 2016, Strainprint has provided technology tools to patients, doctors, researchers, doctors and pharmacists, brands, retailers and regulators to support the health and safety of medical cannabis users across North America.  With almost 2 million medical cannabis interactions tracked and 90 million data points on the effects of lab-tested cannabis products, Strainprint also uniquely provides data-backed insights to formulators, insurers and drug developers. Strainprint can be seamlessly integrated with most electronic medical records, seed2sale and point-of-sale software systems. The Strainprint App is free to patients and can be downloaded from both the iOS App Store and Google Play Store. www.strainprint.ca, facebook, twitter, linkedin.
For More Information:
Strainprint Technologies:  Jessica Moran, Director of Marketing & Communications, 519-494-5379, Jessica.moran@strainprint.ca.
Forward-looking statements
Matters discussed in this release that are not statements of historical or current facts, such as expected savings and other expected benefits to members and suppliers, as discussed herein, are "forward-looking statements" which may involve known and unknown risks, uncertainties and other factors that may cause the actual results, performance or achievements of Strainprint to be materially different from historical results or from any future results or projections expressed or implied by such forward-looking statements. Accordingly, readers should not place undue reliance on any forward-looking statements. In addition to statements that explicitly describe such risks and uncertainties, readers are urged to consider statements in the conditional or future tenses or that include terms such as "believes," "belief," "expects," "estimates," "intends," "anticipates" or "plans" to be uncertain and forward-looking. Forward-looking statements may include comments as to Strainprint's beliefs and expectations as to future events and trends affecting its business and are necessarily subject to uncertainties, many of which are outside Strainprint's control. Forward-looking statements speak only as of the date they are made. Strainprint undertakes no obligation to publicly update or revise any forward-looking statements, whether as a result of new information, future events or otherwise that occur after that date.
SOURCE Strainprint Technologies Ltd.
For further information: 
Jessica Moran, Director of Marketing & Communications, 519-494-5379, jess@jessmco.com