Strainprint Announces Partnership With Emblem Cannabis Corp.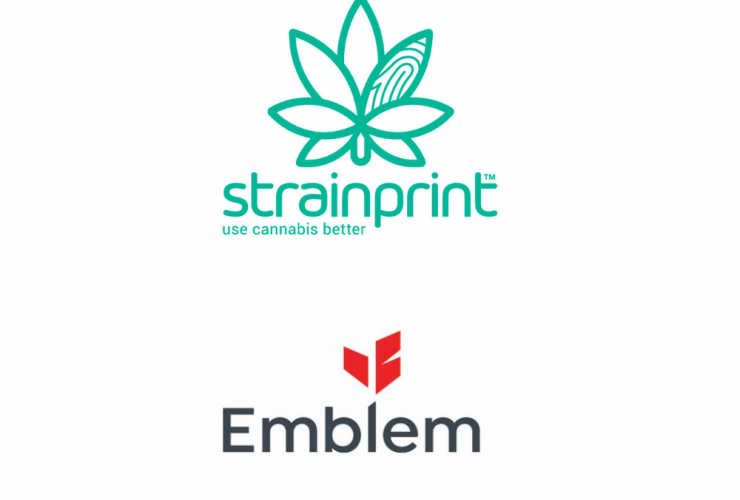 Written by Strainprint
Strainprint™ Technologies Ltd. Announces partnership with Emblem Cannabis corp. to create a licenced version of the Strainprint Medical Cannabis Research App
Toronto, Wednesday, June 28, 2017 – Strainprint Technologies Ltd. ("Strainprint") — the leader in cannabis patient and strain efficacy data — is excited to announce the launch of the first ever co-branded version of its revolutionary mobile outcomes-tracking App with Emblem Cannabis Corp. ("Emblem"). This customized edition of the App features all the same great functionality but is enhanced with unique benefits for Emblem patients such as redeemable discounts on Emblem products.
Emblem will use data gathered by the App to better understand customer needs and to adapt production and service offerings accordingly. "Being the first Licensed Producer in Canada to work directly with Strainprint will give us a competitive understanding of real patient efficacy and allow us to meet the evolving needs of our patients, improving their quality of life," said Maxim Zavet, President of Emblem Cannabis.
"It has been an absolute pleasure to work with the Emblem team, as they share our dedication of using research to improve patient care and increase quality of service," said Evan Karasick, Chief Product Officer of Strainprint.
Strainprint now offers a turn-key, custom-branded version of its mobile App for licensed cannabis producers, clinics, researchers and government. This enables rapid community building through loyalty engagement and triggered messaging. Sandboxed patient data can be segregated by research requirements to run up to five unique clinical studies at once, which can be reported on independently. All Strainprint versions comply with HIPAA, PIPEDA and PHIPA privacy laws and all patient data remains completely confidential. Moreover, Strainprint can be seamlessly embedded or integrated with most electronic medical records (EMR) or seed2sale software providers.
The Strainprint mobile App is free for patients and is available for both iOS & Android from the Apple iTunes and Google Play Stores respectively. Emblem patients will receive a unique code to activate the additional premium features.
About Strainprint™
Founded in Toronto in 2016, StrainprintTM Technologies Ltd. is a Toronto-based software company providing enterprise grade analytics and consumer solutions for the medical cannabis industry. Strainprint manages the gathering and analysis of real-time cannabis consumption data and ranks specific strain efficacy against conditions and related symptoms. StrainprintTM data supports cannabis researchers globally and provides advanced intelligence to licensed producers to optimize grow operations and to clinics to improve treatment recommendations. For more information visit www.strainprint.ca, facebook, twitter, linkedin
About Emblem Corp.
Emblem Cannabis Corp. is a fully integrated Canadian medical marijuana, healthcare and cannabinoid-based pharmaceutical company licensed to carry on business as a producer of medical cannabis by the Government of Canada.
Media Contacts
Jessica Moran
519-494-5379
Strainprint Technologies Ltd.
jessica.moran@strainprint.ca
Ali Mahdavi
Director, Investor Relations
Emblem Corp.
alimahdavi@emblemcorp.com