Mindfully Medicated Patient Profile – Bryce Hooper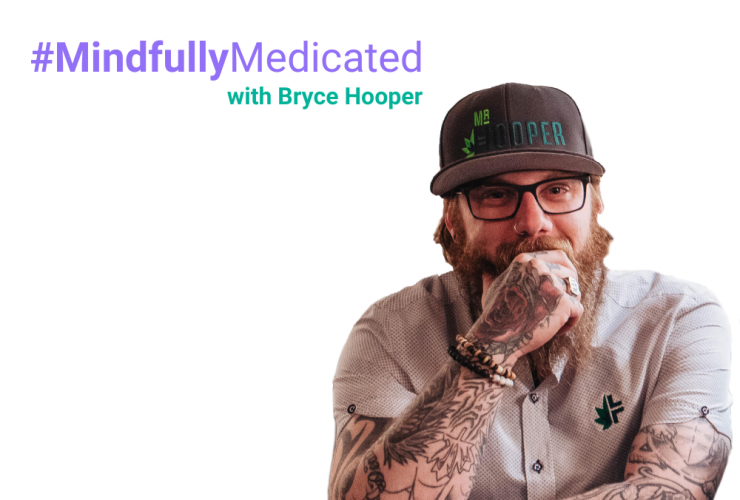 Written by Strainprint
Mindfully Medicated Patient Profile – Bryce Hooper
Meet Bryce Hooper – known in the cannabis world as Mr. Hooper! Bryce has an amazing heart and spirit, anyone who has crossed paths with him can feel it. At first glance you wouldn't see the trauma that has led him to where he is today as a cannabis educator, mentor and peer support worker.
Bryce hasn't always been a cannabis warrior however, prior to his involvement in the cannabis space he served for many years in the Canadian Military. He is now an honourable medically discharged Veteran, who like many struggled to lead a normal life after serving 11 years and 6 months in the Army as a Master Corporal including tours of duty in Bosnia and Afghanistan. We want to take a moment to honour all Veterans this month, and hope to do so by sharing Bryce's story.
How did your cannabis journey begin?
After struggling through pharmaceutical treatments prescribed by DND/VAC physicians, I was at the end my life… I was divorced, I had lost access to my children, and I struggled with PTSD, anxiety, depression and a lot of other mental health issues. At the time, I had accessed another program called CanPraxis, an equine based program for Veterans and first responders; it was here another military brother offered to help me with my struggles and introduced me to cannabis as medicine.
Once I experienced it, I knew I needed medical cannabis in my life. With no local physicians prescribing to a former drug addict, mental health Veteran patient, I had to travel to Calgary, where I found a medical clinic willing to work with me as a patient. Travelling back and forth to Calgary become financially taxing and with some peer reach out, I was able to help facilitate an established veteran based cannabis clinic to open an office in south Edmonton. Shortly after facilitating the clinic's opening, I reached out to my siblings and a couple of business partners and was able to help create what The Herb Clinic is today! From janitor to office manager, veteran volunteer to brand builder, educator and speaker, I did it all with the help of medical cannabis.

How do you think cannabis compares to other pharmaceutical options in the healing and wellness of our Veterans?
For me, cannabis has become an alternative option to other pharmaceutical drugs. I no longer experience the side effects, like GI issues, weight gain and anger/irritability. Unlike pharmaceutical prescriptions, cannabis does not have many known side effects; unfortunately, though, cannabis is more expensive.

How has your journey with cannabis impacted those around you?
Cannabis as a medicine has let me grow into a peer mentor, positive partner, patient father, loving son and compassionate brother.
(A note from the author: What Bryce fails to say with his humble nature is that he not only helped co-found Military Minds Inc, he advocated for the opening of a Veteran focused clinic in the city of Edmonton, and even co-founded a clinic in St. Albert and now Calgary. He also created 'Sessions with Mr. Hooper', an education and peer support program all over Alberta for Veterans and civilians alike.)
If you could tell Veterans interested in medical cannabis just one thing – what would it be?
Education will change your mind; seek proper counselling, education and information. It's not one pill fits all with cannabis; it's a spectrum presenting plant, which has an abundance of pharmacological entourage effect.

What does being Mindfully Medicated mean to you?
Being mindfully medicated means being present in life, productive when I can be, progressive and clear headed to be where I am in life. It lets me feel love again, I'm not just existing.
How do you think the Strainprint app benefits Veterans?
Like most of us know, mental health has its daily struggle; why let cannabis be another bump in that journey? The Strainprint app allows Veterans to navigate cultivars for ailment specific treatment, that are proven to be effective with other Veterans already using the app! The app even has a reminder option that allow you to carry on with daily living and still be able to track your medication.

What do you think needs to be done, in order to get rid of the stigma surrounding cannabis as it pertains to Veterans or even in general?
Exactly what I'm doing with my Mr Hooper platform! Education. It needs to clinically driven, with proven analytical data, presented in a way that is unique, like cannabis as medicine and you as an individual.

Rapid fire with Mr. Hooper!
Favourite terpene: Myrcene
Favourite cultivar: L.A. Confidential, indica dominant
CBD or THC: I love my entourage
Favourite LP: One that is Veteran/First Responder orientated, with compassionate, FULL VAC coverage, family orientated cannabis trained team.
Favourite Clinic: The Herb Clinic, now in St Albert AND Calgary!
Favourite Band to medicate with: Portishead
Favourite TV show to medicate with: Educational, historical or informative documentaries
Favourite munchie: Hawkins Cheezies
Favourite activity to participate in medicated: Educating & spending time with my family
Strainprint wants to thank Bryce Hooper, MCpl (ret), along with all of our Veterans and current serving members of the Canadian Military for all they do! If you, or someone you know, is a Veteran struggling with the aftereffects of serving in the Military, visit The Herb Clinics to learn more about what Bryce's organization can do to help.
Photo credit: Maria Andalis of Macaro Photography