Infused Cherry Granola French Toast Sticks Recipe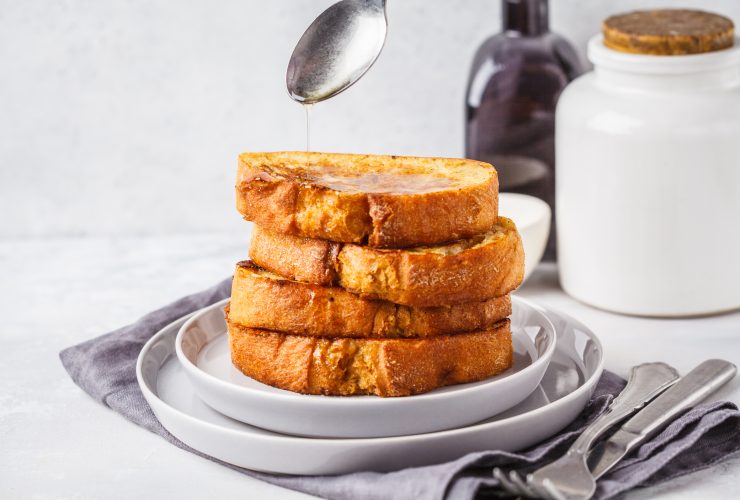 Written by Strainprint
Infused Cherry Granola French Toast Sticks Recipe
Try out this Cherry Granola French Toast Sticks recipe for an infused treat in the morning.
Number of Servings: 4     |     Prep Time: 20 Minutes
What You Will Need:
1/4 cup heavy whipping cream

2 tablespoons of potent cannabutter

3 tablespoons brown sugar

1 tablespoon dried cranberries

1/4 teaspoon vanilla extract

1/4 teaspoon of ground cinnamon

4 slices of thick bread

1 large banana (sliced)

1/4 granola (preferably without raisins)
Homemade Cherry Canna Syrup
To create the syrup, combine the heavy whipping cream, brown sugar, cannabutter cinnamon, vanilla and cherries in a small saucepan. 

Bring the contents of the saucepan to a boil while stirring constantly. This process should not last any longer than two minutes. 

Remove the saucepan from heat and allow the syrup to thicken. 
Prep 
Start by removing the crust on each slice. 

Cut each into 3 equal slices. If done correctly, they will be nice and thick. 

Combine the milk, eggs as well as a dash of salt in a large bowl. The bowl should be large enough to toss the aforementioned bread sticks in. 

On a separate plate, combine the cinnamon as well as the sugar. This step will allow us to add a depth of flavour to our cherry granola French toast.   

Now it is time to put the heat to work! Melt 2 tbsp of your finest cannabutter in a large pan. Be sure to keep your heat at a medium to medium-low to avoid stripping the cannabutter of any of its potency. 

Gently roll the bread sticks in the egg mixture. Make this process quick, otherwise the sticks will become soaked instead of coated. This is the most common mistake when preparing French toast. After a quick dip, gently shake off excess and place and prepare to cook the French toast.  
Frying 
Now that we have prepared our French toast sticks, it is time to get them cooking! In the heated pan, drop 2 or 3 toast sticks in at a time. 

Cook the French toast on each side until golden. Typically, this could be about 3 to 4 minutes per side. Be careful not to burn the French toast sticks. 

Once thoroughly golden, immediately transfer the toast sticks to the plate with cinnamon and brown sugar. Roll the golden French toast sticks in the mixture until they have an even coat. Be sure to perform this step quickly while the golden French toast sticks are still hot. This will ensure that the sugary goodness adheres to the French toast sticks.  
Plating 
Place the coated sticks onto a plate. (Recipe allows for each plate to have 3 toast sticks.) 

Next, top the French toast sticks with a moderate amount of granola. 

Add sliced bananas to taste. 

Once the toast sticks have been garnished, it is time for the syrup. Place a moderate amount of syrup onto the dressed sticks. Conversely, the syrup can be placed on the side for those who are more into dipping their French toast. 
Now these infused cherry granola French toast sticks are ready to enjoy! For more cannabis-infused recipes for breakfast, lunch, dinner and even dessert, follow Strainprint on social media to stay up to date on the blog.