Holiday Survival 101 – Your Guide to Staying Mindfully Medicated this Holiday Season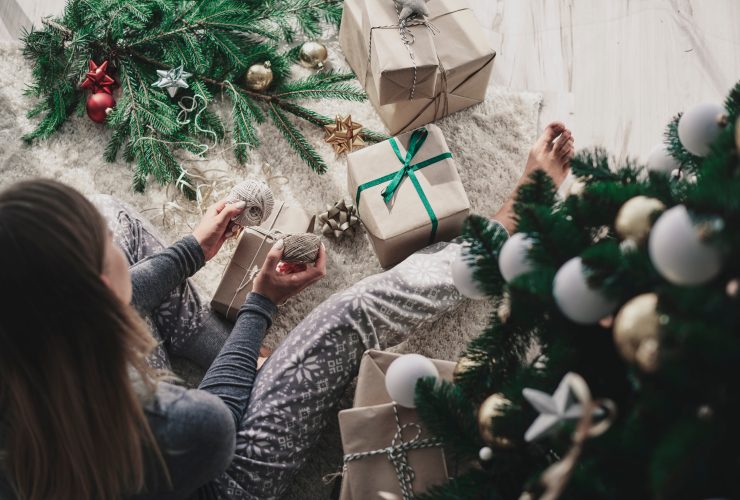 Written by Strainprint
Holiday Survival 101 – Your Guide to Staying Mindfully Medicated this Holiday Season

It seems that earlier and earlier every year we are being inundated with the holiday season so that by the time December rolls around, many of us are sick and tired of it before the season has even begun. I don't know why it's happening earlier every year but I do know I am excited to simplify and take back my holiday season this year. Whether you celebrate Christmas, Hanukkah or the Festivus for the Rest of Us, this holiday survival guide is for you!
Kick overwhelm and anxiety to the curb this holiday season!

Many people find the holidays overwhelming between busy shopping malls, school concerts and family gatherings where we are surrounded by a lot of people and a lot of noise; while some of it is welcome, we all know too much of anything isn't great so let's discuss some things we can add to our holiday tool belt to make sure we aren't too overwhelmed by the busy season.

Don't overschedule yourself – I know this one can be hard because we don't like to disappoint anyone or miss out on activities but it really is okay to say no! You don't have to attend every single engagement you're invited to and by choosing to say yes to only the activities you truly want to attend, you will appreciate them even more when you're not overwhelmed by your schedule.

It's also important to pencil in some down time before the invitations and obligations start rolling in, so open up your calendar and block out some chunks of time that are just for you and your most important people! Doesn't a calendar with activities like gingerbread house making, puzzles by the fire and cookie decorating sound a lot nicer than non-stop out of the house busy-ness? If you take the time to schedule them in, it's also important to hold yourself to those plans – if you wouldn't cancel on a dear friend then you most certainly shouldn't cancel on yourself! Pre-arranging those quiet moments ensures you get as much down time as you need to avoid that holiday overwhelm.

Holiday tip: A sublingual cannabis spray offers discrete on the go micro-dosing when you're out and about at holiday parties, shopping malls and other anxiety causing events; our Strainprint app users find that CBD is a great choice to help with anxiety and overwhelm. Hexo carries a yummy peppermint flavoured THC or CBD spray that would turn your hot chocolate in to a lovely warm treat.

The holiday season is brutal on the budget, but we have some tips!

The holidays can be really hard on the pocketbook for anyone, but cannabis patients often find their budgets even more stretched due to the cost and taxation of our medication. Here at Strainprint we understand that, so we wanted to share our tips on staying Mindfully Medicated while sticking to the budget.

Growers Blend, crumbles and shake – OH MY! Did you know that some LP's offer discounted shake or trim? LP's often use a combination of a few different strains all ground up (milled) or even the tiny nugs left after trimming; some of the products are fantastic for vaping or smoking while others are better used for making edibles. The commonality between them all is that they are offered at a discount price sometimes as low as $3.25 per gram which definitely helps the pocket book at an expensive time of year.

What do you do with the plant matter left over after you vape? Did you know that there is a small amount of medicine left in your flower after you have vaped it? Lots of our patients like to save up their ABV flower (already been vaped flower) and use it to make topicals and oils. Of course, because the flower has already been vapourized, much of the medicine has been utilized but it's a great way to make mild oils and topicals and get a secondary use out of your medication. It doesn't take long to get into the habit of saving it up and accumulating enough to use, so find yourself a storage container like a mason or stash jar, and start saving.

Lastly we wanted to remind all of our fantastic readers and patients that it's okay to make a budget for your gift giving and stick to it. We would all much rather receive a small, thoughtful gift that doesn't cause our loved ones stress or hardship over something elaborate that causes anyone to go without the medicine they need. 

Holiday tip: Why not use that leftover ABV to make a medicated topical for a loved one!
FESTIVE HOLIDAY EGG NUG
   
Time: 20 minutes      Servings: 8-10

INGREDIENTS FOR INFUSED HEAVY CREAM
1.5 c heavy cream
0.5 g decarboxylated cannabis of choice*
INGREDIENTS FOR EGG NUG
5 egg yolks
½ cup sugar
2 cups whole milk
1 ½ cups infused heavy cream
1 tablespoon vanilla
1 tsp nutmeg or egg nog blend
5 egg white
2 tablespoons sugar
Freshly grated nutmeg
INSTRUCTIONS FOR INFUSED HEAVY CREAM
Create a double boiler
Add heavy cream to double boiler bowl along with cannabis (can use an herb bag or cheesecloth here for ease of removal but not required)
Allow the cannabis to steep into the heavy cream on medium to medium high heat for about 40 minutes
Strain if required to remove cannabis, gently pressing down with your spatula
Store covered in refrigerator for up to a week
INSTRUCTIONS FOR EGG NUG
In an electric mixer beat the yolks until they are pale yellow.  With mixer still running, stream in the sugar until well blended and dissolved. Add the milk, infused cream, nutmeg and vanilla. Mix until well blended.
In another mixing bowl whip the egg whites until they reach soft peaks. Add the remaining 2 tbsp sugar and beat until stiff.
Gently fold egg white mixture into the liquid and chill in the fridge for at least an hour before serving
Season with freshly ground nutmeg
*0.5g of 20% thc cannabis will make 8 drinks with between 10-12.5mg of THC per drink.  Use more or less cannabis as needed.