Bringing Cannabis to the Dinner Table: Canadian Thanksgiving Edition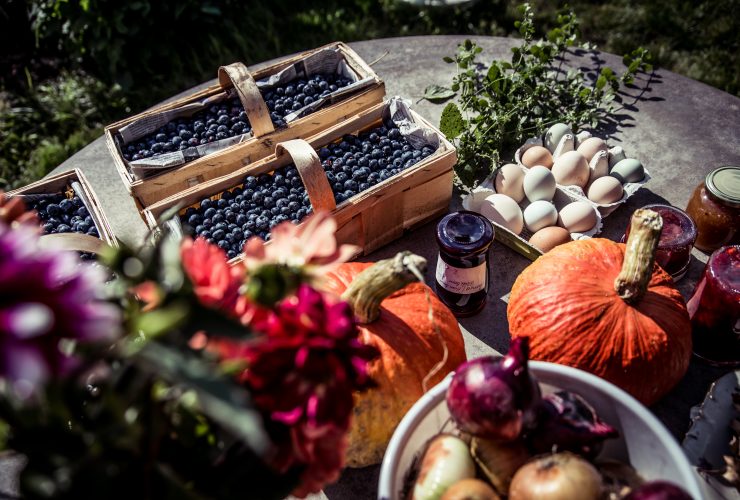 Written by Strainprint
Bringing Cannabis to the Dinner Table: Canadian Thanksgiving Edition with Chef Jordan Wagman
Thanksgiving is right around the corner, and whether you're looking for something to spice up your Friendsgiving dinner, or a way to make family time a little more enjoyable- we're here to tell you just how to do it, the canna-friendly way, with Chef Jordan Wagman.
Take one look at Chef Wagman's Instagram feed, and you'll find yourself hitting that follow button faster than your stomach can grumble. From artfully plated ceviche and gluten free gnocchi, to vegan peach and mint gummies, and if he wasn't already the coolest… he also does cannabis infused dinners. A chef for the past 25 years, Chef Wagman also offers cooking classes for children and adults, and is a best selling author.
"In the last year I have overheard and been party to a number of conversations about 'dosing' your food, or more specifically how to properly infuse food with THC or CBD.
I preface all discussions about THC and CBD with the following disclaimer; I'm not a medical practitioner, I don't even play a doctor on TV, my opinions are based on personal experience and the years I have been successfully infusing food for clients as a professional chef."
Ways to Infuse Your Food with Cannabis
There are two ways you can infuse your Thanksgiving dinner with cannabis- an oil or a canna-butter. Choosing your method depends entirely on your preference. Whether it's an infused olive or coconut oil, THC oil or CBD, or even organic butter or margarine, the choice is yours. Each will yield a different result in both taste, and the effects you feel, so it's important to be mindful of the method you're choosing, and the crowd you're serving it to.
Chef Wagman also suggests being careful with the heat setting you're using, when infusing your oil.
"Heating cannabis oil at high temperatures, for a prolonged period of time can degrade your product. I add my cannabis oil at the last possible moment to ensure I retain the integrity of the CBD or THC, though sometimes I will cook my product, at lower temperature, in baked goods."
For a step by step walkthrough on how to make your own canna-butterin preparation for Thanksgiving, check out our DIY tutorial on the Strainprint YouTube channel.
Tips to Keep in Mind When Cooking with Cannabis
There are a few key tips to keep in mind when you're cooking with cannabis. The first being, you don't need to use your finest flower for cooking. Save and use your AVB (already vaped bud), keep your stems, or use kief-  just note that kief will be more potent, and always remember the decarboxylation process, whichever form of cannabis you choose.
When it comes to choosing the foods he infuses, Chef Wagman is particular about which food he works with:
"I infuse both sweet and savory foodstuff but I am very selective with the type of food I infuse. For example, I infuse liquids, not solids. I will add cannabis oil to a sauce that will be pureed to ensure the mixture is homogeneous. I will add oil to a brownie mixture or vinaigrette that I am thoroughly mixing or pureeing. Infusing foodstuff that will be thoroughly mixed or pureed ensures the CBD or THC will be evenly spread throughout the entire mixture.
Bringing Cannabis to the Dinner Table
The stigma surrounding cannabis still lingers, as do many misconceptions around the plant, some of which your family members probably still harbor. Maybe this isn't the year that you bring an infused gravy to the table, but instead the year that you bring it up in conversation. The more we talk about cannabis, educate people about the benefits, and dispel the myths, the more open people will be to trying the plant in its various forms, and getting to experience the benefits for themselves.
"This holiday season I encourage you to give an infusion a try and I have the perfect recipe to accompany your Thanksgiving Day turkey. Infused or not, this sauce is incredible served along side your Thanksgiving Day turkey and may become a sauce you find an excuse to make the other 364 days of the year. Enjoy!"
Cranberry Tomato Sauce
What you'll need:
2 cups (500 mL) cherry or grape tomatoes
2 cups (500 mL) cranberries, fresh or frozen
1/3 cup (100 mL) olive oil
½  tsp (2 mL)sea  salt
¼ tsp (1 mL)fresh ground pepper
2 tbsp (30 mL)CBD or THC infused olive oil (optional) (see tips)
*makes about 4 cups (1 L)
Rinse tomatoes under warm water and set aside
In a sauce pot, combine tomatoes, cranberries, olive oil, salt and pepper. Bring to a simmer over low heat until tomato skins begin to split and the juice from the tomatoes has been released, about 20-25 minutes.
Remove 1 cup (250 mL) of sauce and set aside.
Remove from heat, add cannabis oil and using an immersion blender in the sauce pot or transfer to a blender and puree until smooth.
Add the reserved sauce and mix well to combine.
Use immediately or cool to room temperature, transfer to an air-tight container and refrigerate up to five days.
Know What You're Serving
It should go without saying that informing your guests that they're being invited to an infused dinner is of utmost importance, and you should be as transparent as possible when explaining what you're serving.
"If using THC, know the potency and share that with your guests before serving." says Chef Wagman, "Always start slow and take minimal amounts if you are new to this world, the product can take some time to absorb and affect you. I encourage people to wait 45 minutes before deciding to take another 'dose'."
To learn more about Chef Jordan Wagman, and to find out about his upcoming events and classes, visit his websiteand follow him on social media for updates.