Understanding Terpenes: Nerolidol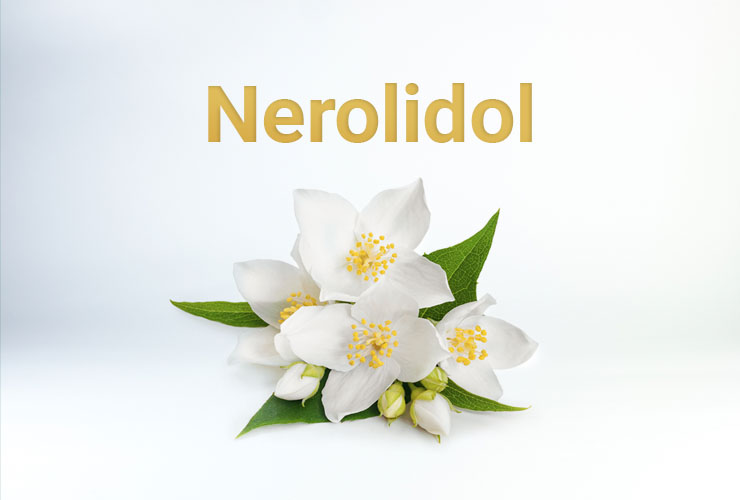 Written by Curt Robbins
Welcome to the Strainprint Community Understanding Terpenes Series. Before diving into the details behind nerolidol, the multi-talented terpene produced by cannabis known for its anti-bacterial, anti-cancer, anti-fungal, and anti-inflammatory powers, it behooves readers to develop a solid understanding of terpenes as a category of wellness molecule.
Patients gain advantage by knowing how terpenes compare to the other group of healthy chemicals produced by cannabis called cannabinoids (including tetrahydrocannabinol [THC] and cannabidiol [CBD]). The first article in the series, featuring the terpene myrcene, offers a great primer on terpenes, and cannabinoids; you can gain more understanding here.
Nerolidol (sometimes called penetrol, peruviol, or trans-nerolidol) conveys a scent of fresh bark that is sometimes described as "woody" or "fruity" and that may resemble apple, citrus, or rose. Similar to other terpenes, nerolidol is employed by the food industry as a flavoring agent, is an ingredient in some perfumes, and is even used in cleansers and detergents.
Also like other terpenes, nerolidol is produced by many plants in addition to cannabis. Citronella, ginger, jasmine, lavender, lemongrass, neroli, orange, and tea tree oil all are good sources of this beneficial terpene.
Cannabis cultivars known to include significant quantities of nerolidol include Blue Dream, Bubba Kush from Whistler, Chem Dawg, Good Morning from Hydropothecary, GSC (formerly Girl Scout Cookies), Island Sweet Skunk, Jack Herer, Sojourn from AgMedica, Skywalker OG, and Sour Diesel.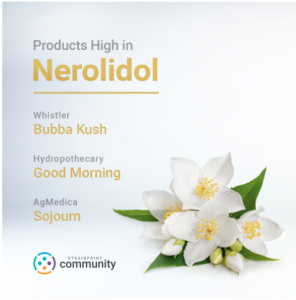 Medicinal Efficacy
Readers following the Strainprint Cannabis Terpenes series may have noted some commonalities among terpenes in terms of their medicinal efficacies. Both formal research and anecdotal evidence suggests that nerolidol offers a wide range of significant health benefits to patients and consumers that is similar or nearly identical to other terpenes and also cannabinoids.
Among the qualities of nerolidol are anti-cancer,  anti-fungal, antimicrobial, and antioxidant properties. Nerolidol acts as a sedative (similar to myrcene and linalool) and is an effective agent for fighting malaria and ulcers. It offers promise as a cytotoxic (anti-cancer) agent based on its ability to disrupt the membrane of cancer cells.
The Studies
Studies of nerolidol and similar terpenes has revealed multiple medicinal efficacies that could help patients with diseases as wide ranging as bacterial infections, cancer, malaria, skin lesions, ulcers, and—like many other terpenes—any condition involving systemic inflammation (including arthritis, asthma, and fibromyalgia).
A 2016 study entitled "Nerolidol: A Sesquiterpene Alcohol with Multi-Faceted Pharmacological and Biological Activities" that was published in the journal Molecular Diversity Preservation International found that nerolidol delivers multiple medical benefits, including its potential role in the treatment of cancer, malaria, ulcers, and any of the thousands of diseases and conditions based in inflammation.
Concluded the study's researchers, "Nerolidol is one of the common components found in the essential oil of various medicinal plants. A majority of the studies [reviewed] reveal that nerolidol is the major constituent in many plants that accounts for their pharmacological and biological activities, such as anti-microbial, anti-parasitic, anti-biofilm, anti-oxidant, anti-nociceptive, anti-inflammatory, anti-ulcer, skin penetration enhancer, insect repellent, and anti-cancer properties."
A 2016 study entitled "Neuroprotective Effect of Nerolidol Against Neuroinflammation and Oxidative Stress Induced by Rotenone" and published in the journal BMC Neuroscience revealed the neuroprotective effects of nerolidol as derived from its anti-inflammatory and antioxidant capabilities. The study examined the efficacy of nerolidol for diseases of neurodegeneration, specifically Parkinson's Disease (PD).
Reported the researchers, "In conclusion, our study suggests that nerolidol supplementation ameliorates [improves]…neurodegeneration through its antioxidant and anti-inflammatory activities. The present results highlight the therapeutic potential of nerolidol in neurodegenerative diseases, including PD."
The study's authors highlighted the need for additional research into the healing dynamics behind nerolidol. "Further study is required to fully understand the molecular mechanisms of how nerolidol potentiates antioxidant and anti-inflammatory activities," concluded the research.
A 2007 study entitled "Antifungal Effect of Eugenol and Nerolidol" that was published in the journal Biological and Pharmaceutical Bulletin investigated the effectiveness of nerolidol as a topical treatment for skin lesions. "Nerolidol improved the skin lesions infected by M. gypseum," reported the researchers. The study concluded, "These results suggest that…nerolidol could apply supplementary antifungal agents."
A 2003 study entitled "Sensitization of Staphylococcus Aureus and Escherichia Coli to Antibiotics by the Sesquiterpenoids Nerolidol, Farnesol, Bisabolol, and Apritone" and published in the journal Antimicrobial Agents and Chemotherapy found nerolidol and three of its peer terpenes to be capable agents for fighting bacterial infections.
Concluded the researchers, "Potential applications include the treatment or prevention of infections, enhancement of food safety, and the fortification of existing sanitizing procedures."