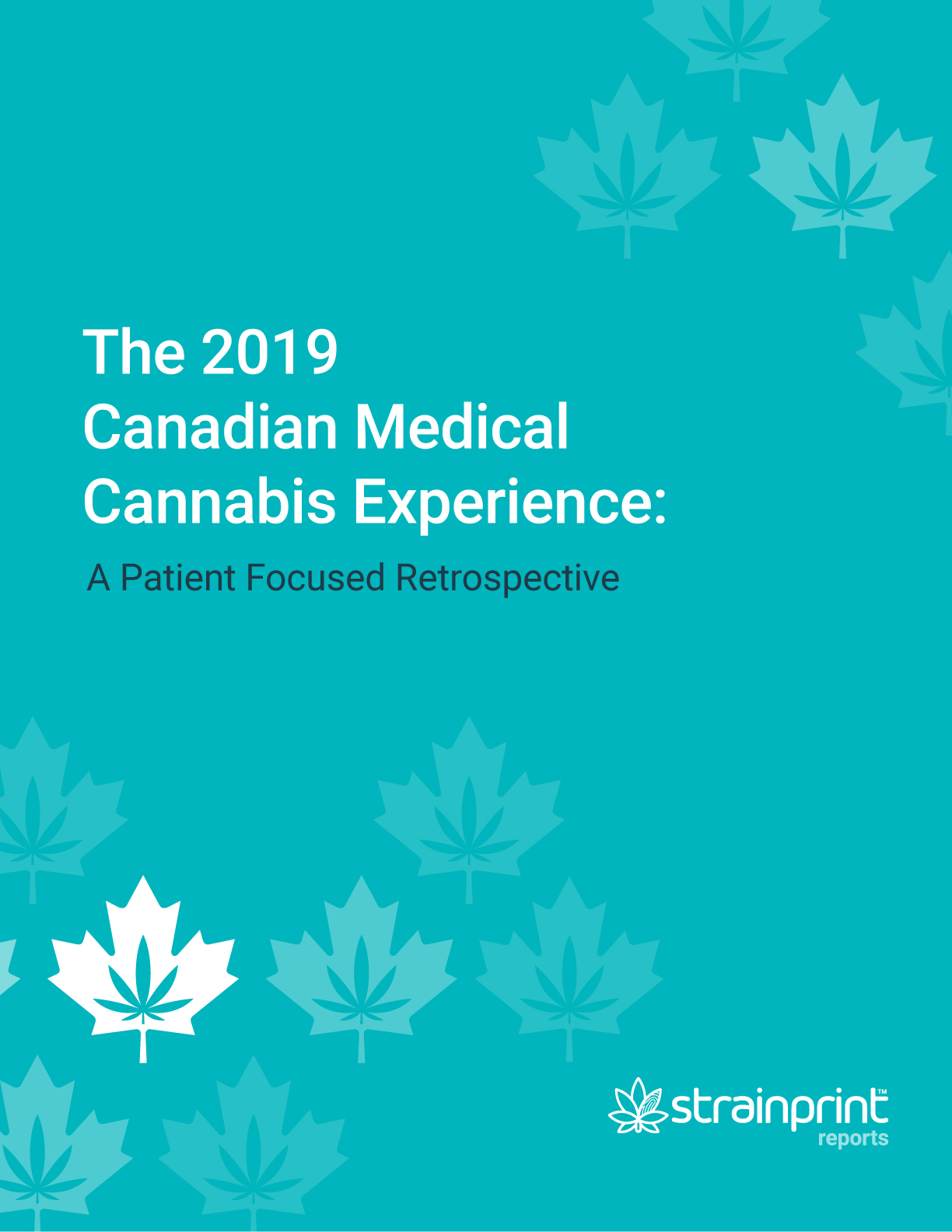 The Canadian Medical Cannabis Experience: A 2019 Patient Retrospective 
For a preview of the report, click here.
The 2019 Patient Retrospective Report is the cutting edge of cannabis research and a major milestone for the cannabis industry. The report analyzes user variables such as age, gender, region, usage frequency and efficacy by symptom and is the first research that is able to identify which terpenes are active in the cannabis products that are reported to have the highest efficacy by symptom. A few key findings from the report include:
Muscle pain, anxiety, depression, joint pain, and insomnia are the top five symptoms that patients treated with cannabis during the report period;

There are clear differences between gender and region for the preferred choice of cannabis administration and the most effective methods can vary by gender and age;

Multiple cannabis species are reported to offer comparable relief for particular symptoms, supporting the hypothesis that it is more than the species or the THC:CBD content that determines efficacy of a strain;

Patients overwhelmingly report positive and or neutral emotive effects from their medical cannabis use with very few unfavorable side effects.  As well, the specific terpene profiles present in a strain can greatly impact the side effects; 

On average, there was no significant change in how or when patients treated their various symptoms after cannabis was legalized recreationally in Canada.
Report Statistics
Methodology:  805,813 Patient recorded outcome measures
Efficacy Calc: Efficacy = (Calc 1 + Calc 2) / 2
Calc 1 = (x – y) / x
Calc 2 = (x – y) / 10
Where X=severity prior to medicating
and Y=severity post medicating
Statistics Used: Chi Square, T Tests
Key Takeaways:
Strainprint analyzed thousands of patient journeys to create a report that provides insight into cannabis as a therapy by examining the various factors and variables that impact patient behaviour and efficacy.

The examination of such a large sample of patient journeys illustrates how cannabis is a personalized approach to treatment and adjunct therapy; it's not a one size fits all like traditional molecular pharma.

Cannabis as a plant-based medicine is not stable like molecular pharma and readers will use this report to understand:

how the method of ingestion impacts efficacy

how plant genetics impact efficacy

different behaviours and preferences among age and gender cohorts

how cannabinoids and  terpenes impact efficacy
How Can This Report Help You? 
The report provides an in-depth analysis to help guide you through this new medical cannabis market. Whether you are a producer, retailer, clinic, CPG company, investor, bank, physician, or government organization, the magnitude, and quality of our observational data set cannot be matched.  Strainprint has collected the data for you and mined insights that will help guide your organization's needs. 
Retailers & Licensed Producers can use the report to understand customer needs and optimize strategy and portfolio

Medical Community & Clinics can use the report to understand different patterns in patient behaviours, the impact of demographics and different types of cannabis products on efficacy and to inform recommendations for treatments. 

Consumer Packaged Goods (CPG), who are interested in the new edibles market can use the report to garner insight into specific cannabis compounds for research and development of new products.

Financial Institutions & Banks can utilize the report to understand the market and its consumers to inform stock valuation and M&A activity. 

Government can use the report to understand patient behaviour which could help to create and shape health policies and guidelines for physicians and pharmacists.