Cannabis Education, Resources and Community.
The Strainprint Community was built intentionally for users of all knowledge levels, and meant as a place to learn, engage, and support. Join us as we discuss cannabis, in good company.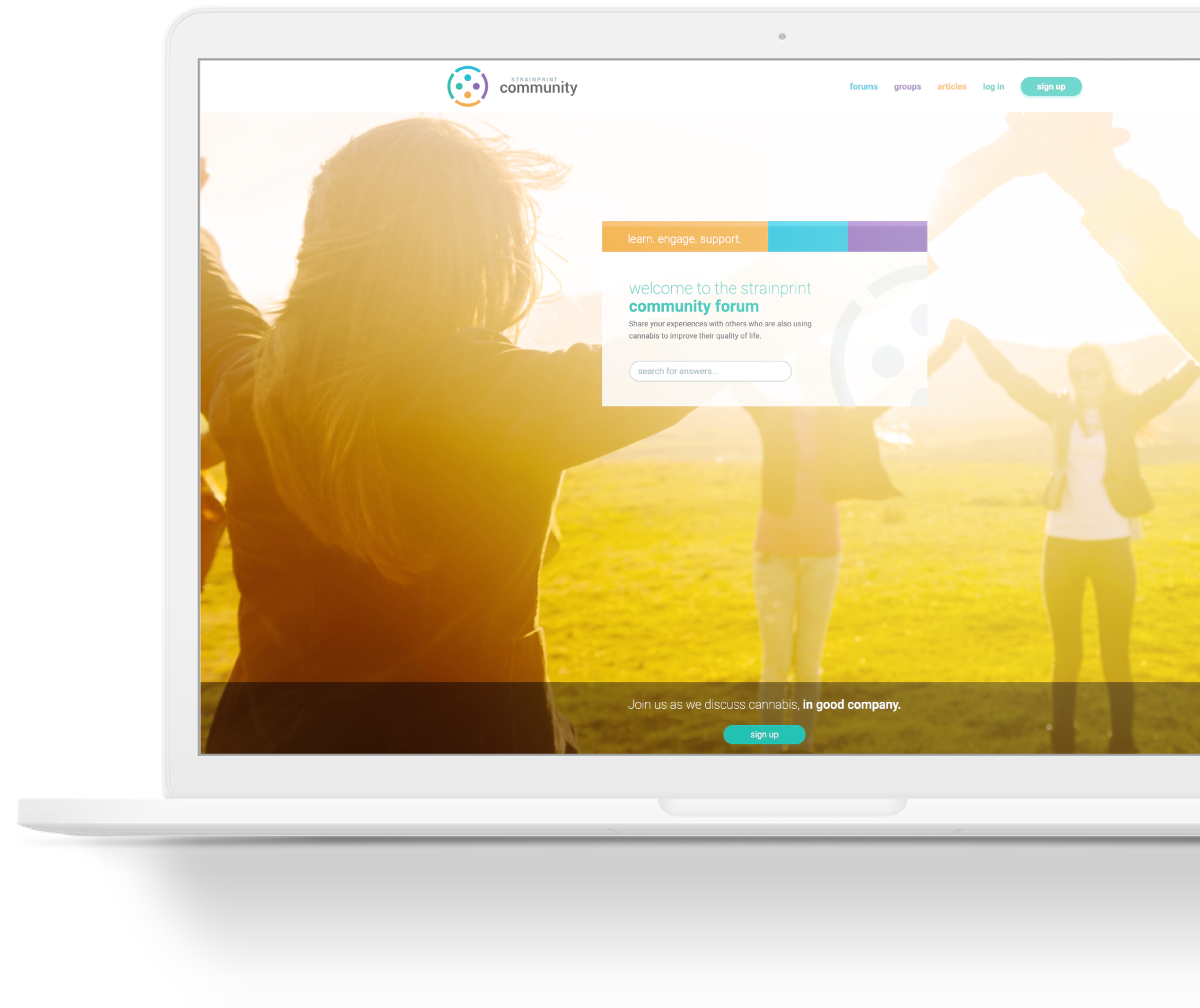 Our Community
Creating a Community for medical cannabis patients was always a part of Stephanie's vision for Strainprint. Her passion for helping patients use cannabis better drives her ideas. After the creation of the Strainprint App and Loyalty program (Strainpoints), the Strainprint Community was the next piece of the puzzle that was missing.
In 2017, Steph met Ashleigh Brown, founder of the Facebook Community Group SheCann. The two bonded over their shared passion for helping others in ways that made people feel safe and comforted. They knew they had to collaborate on creating a compassionate, kind community where people could connect, support and learn from each other and industry experts. After much conversation, the two worked together to map out the incredible Strainprint Community platform you see today. Their dedication and understanding of patients' experiences is remarkable and will continue to be the focus of Strainprint Community.
Community Features
A Safe Place
Moderated by Industry Experts
Secured, encrypted and hosted in Canada
Medically focused
Designed by patients for patients
Curated content, including articles and videos, from industry leaders and members
Part of the Strainprint ecosystem Integrated with Strainprint's Journaling App
Driven by data from Strainprint Analytics
Gamified through Strainpoint Rewards
Interested in working with us?
For pricing on advertising, sponsorships, or research studies, please contact our sales team for a customized quote.
Advertising
Increase brand exposure
Connect with your target market
Support your marketing initiatives
Competitive pricing
Conducting Research
Do you want to conduct research on Cannabis use? Strainprint has secured opt-ins for users who are looking to participate in Cannabis related marketing, research and clinical studies. Strainprint's Community has the audience you're looking for when it comes to Cannabis research.
Sponsorship Opportunities
Engage the Community with a mix of different content types, typically much more effective than traditional ad banners or boxes. Strainprint offers sponsored content including:
Articles
Quizzes
Surveys
Videos
Infographic