Cannabis Analytics for
Medical Marijuana Growers and Producers
Grow and sell the cannabis products your customers actually want
Strategic
Genetic Selection
Discover which products, chemovar, and consumption methods are reported as most effective to understand buying habits and reported symptom relief.
Access
Market Research
Understand who, why, where, when, how and how well your products are being used.
Reward
Patient Participation
Create ongoing engagement through loyalty rewards and by providing your customers with a much needed journaling tool.
Gain Valuable
Consumer/Patient Insight
Conduct targeted research to spot potential distribution opportunities and emerging market trends.
WHY CHOOSE STRAINPRINT ANALYTICS?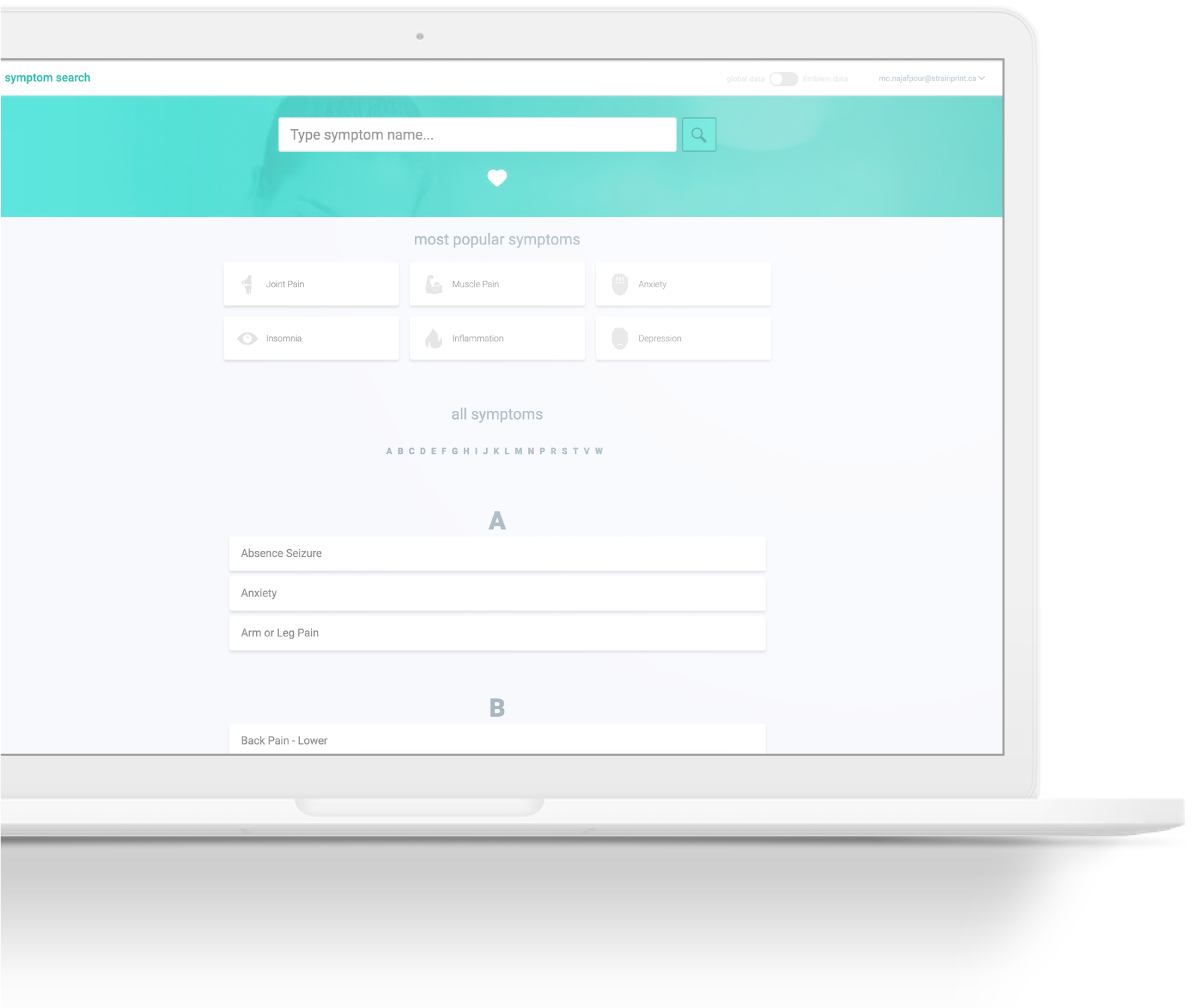 Features
Custom branded (white-label) versions available
Cleansed and verified data to ensure integrity
Research-ready with custom surveys and polls
Geo-tagged for jurisdictional compliance
HIPAA, PHIPA & PIPEDA privacy compliant
Integrates with third-party Seed-to-Sale, EMR and ecommerce solutions
Based on lab-verified strain composition
Understand Cannabis Better
Our company has been using Strainprint Analytics since the product was launched. It has greatly improved the way we do business and is a "go-to" tool that our team uses on a daily basis. Having a 'real-time' pulse on how our clients are using our cannabis medications after it leaves the shelves is an incredible asset. The demographic and geographical information helps us to ensure production optimization and to continue to offer the products our clients find effective. This tool has allowed us to make meaningful data-driven business decisions that have positively impacted our patient experience.
Adam Saperia
Chief Strategy Officer, Emblem Corp.
Through utilizing our own white labeled version of the Strainprint app we have been able to access an extremely meaningful loyalty program for our customers. It has also increased our consumer engagement through the ability to share anonymous data about product choice, ingestion methods, and ideal treatment for specific symptoms.
Cameron Champion
Chief Information Officer, Surterra Wellness
Strainprint Analytics has provided great value to our company by giving us a competitive advantage. Not only have we been able to use the data to see what's working, but more importantly what's not working. This keeps us at the forefront as innovators within the competitive cannabis business landscape.
Nicole Lucarino
Officer Manager, Canna Farms