Use Cannabis better with Educator Rob Frid & Strainprint. Looking to become more mindfully medicated or more information on medical cannabis? We're here to help.
I stopped playing hockey in 2006 and my symptoms began to get worse by the day.  I fought through the chronic pain and traumatic brain injury while being prescribed Anti-Depressants and pain pills to combat the side-effects that I was left with, from traditional pharmaceutical care at the hospital level.
By 2011, I was hospitalized for 30 days with my airways compromised and more pain that I could handle, from an adverse reactions to pharmaceuticals.I was on my way out, understanding if I did not find a way naturally to cope with both Parkinson's Disease, Dystonia and Chronic Pain. I would not make it past the age of 40. This was not in my cards, as everyone knows the love I have for my beautiful daughter Tegan!
In 2012, I pushed my specialists at Parkwood Hospital in London, Ontario to look at Medical Cannabis- not only as an option to feel better, but to heal. I also looked down the road at how to support and be a voice for other patients, myself and be more active with my daughter. Cannabis has been a huge part of my recovery on this path to a better quality of life and recovery!
So when you're having issues dealing and coping with Chronic Illnesses, look carefully at the options we have here today with Medicinal Cannabis. There is hope and there is a way to heal naturally!
Enter promo code ROBFRID when you sign up to receive 250 bonus points.
Use cannabis better with Rob Frid and the Strainprint app
Strainprint is the leading Cannabis tracking app, available on both Apple and Android devices. Designed for patients, by patients, Strainprint was created to be used by everyone. The Strainprint app allows you and your healthcare provider to see which strains, methods and doses work best for you. Plus, each tracked session earns you valuable points towards rewards you'll love.
Session History
Search past sessions by effects. Of course you can't remember which strains made you feel most relaxed. Strainprint does that for you!
Learn and Compare
Learn which strain types, THC + CBD levels, ingestion methods and dose amounts work best for your symptoms. Compare which strain is ranked #1 in efficacy for your symptom.
Personal Log
View your personal log book of all tracked sessions. Share the results with your healthcare provider so they can see how your treatment is going.
Earn Strainpoints TM
Earn loyalty points for every tracked session. Redeem points for great swag and discounts!
Enter promo code ROBFRID when you sign up to receive 250 bonus points.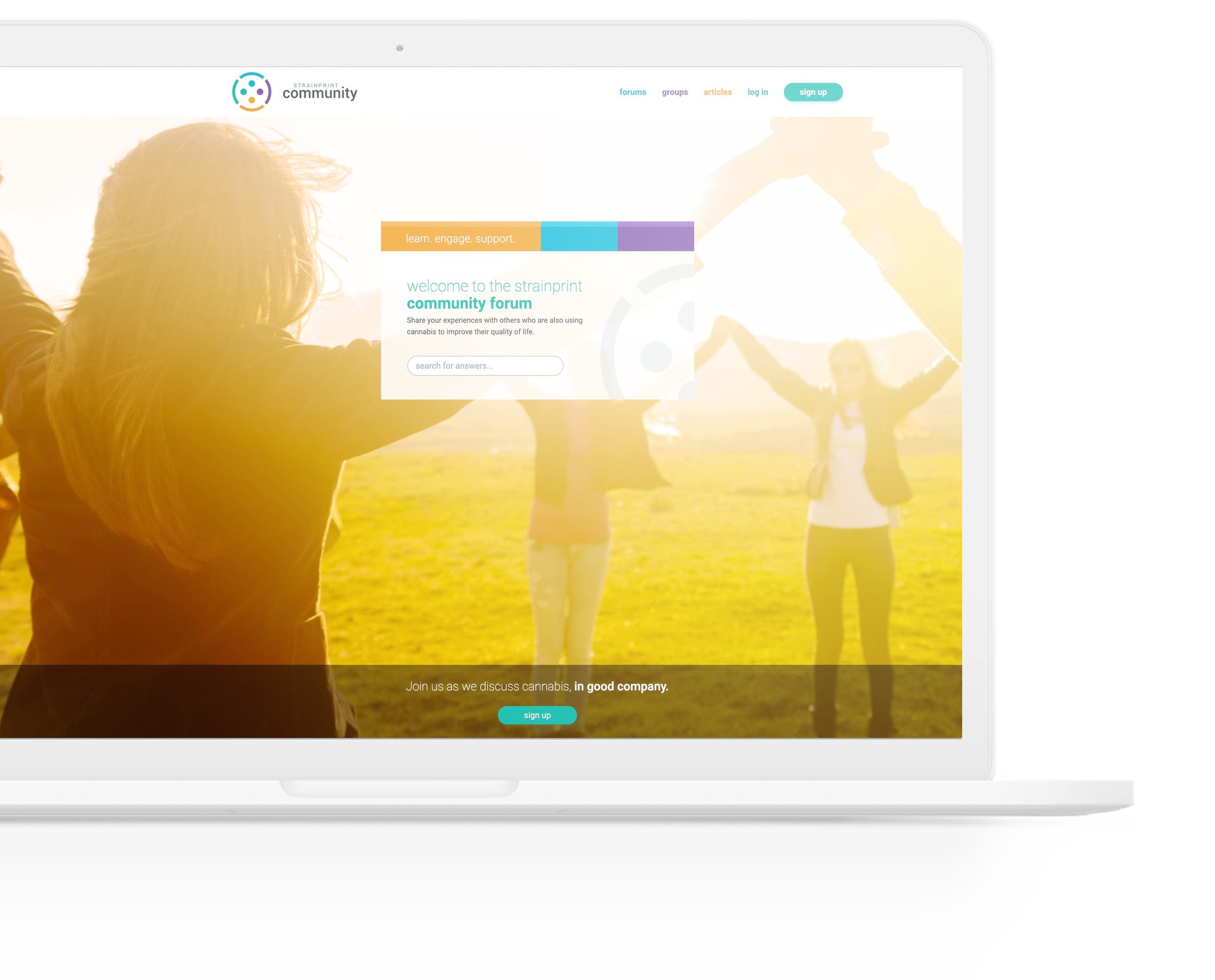 Share your experiences in the Strainprint Community
The Strainprint Community was built intentionally for users of all knowledge levels, and meant as a place to learn, engage, and support. Join us as we discuss cannabis, in good company.
Stay informed with Dr. Hart updates, news, and event dates, on the Strainprint Community.
Community Features
A Safe Place
Moderated by Industry Experts
Secured, encrypted and hosted in Canada
Medically focused
Designed by patients for patients
Curated content, including articles and videos, from industry leaders and members
Part of the Strainprint ecosystem Integrated with Strainprint's Journaling App
Driven by data from Strainprint Analytics
Gamified through Strainpoint Rewards
Introducing Strainprint Ambassador Rob Frid