Understanding Cannabinoids: THCV
By: Curt Robbins
The hemp and cannabis plants offer a myriad of beneficial molecules for human health. Among these are cannabinoids, terpenes, and flavonoids. Of the cannabinoids, several stand out due to their unique efficacy. One of these is tetrahydrocannabivarin (THCV), a chemical cousin to tetrahydrocannabinol (THC) that offers some unusual characteristics.  
THCV is mildly psychoactive, somewhat like a watered down version of THC. Discovered in 1970, this molecule is just a few carbon atoms shy of THC. It sometimes results in psychoactivity because, like THC and other cannabinoids, it crosses the blood-brain barrier to reach the special CB1 receptors that populate the brain and central nervous system. 
Biphasic Behavior
One characteristic that THCV and THC have in common is their biphasic response behaviors. "Biphasic" means that some molecules exhibit different efficacies at various dose levels. Thus, at a low dose, THCV causes no psychoactivity; at a potent does, however, it does. (THC demonstrates the same biphasic quality in terms of anxiety: At low doses, THC reduces anxiety; but at high doses, it can cause extreme anxiety and even panic attacks.)  
In actual use, THCV is almost never consumed as an isolate, meaning that its efficacy is necessarily commingled with that of other cannabinoids—specifically the most common, THC and CBD. The role of cannabinoids such as THCV, via the entourage effect, is believed to be one where the modulation (boosting or buffering) of other cannabinoids is as important a function as the direct efficacy provided by a particular cannabinoid in isolate form.    
Cultivars (strains) rich in THCV include Doug's Varin, Durban Poison, Jack the Ripper, Moby Dick, Skunk #1, and Willie Nelson.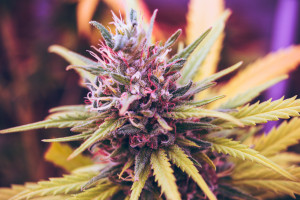 Medical Efficacy
Like other cannabinoids, THCV has been shown to provide a host of health benefits. These include helping patients who suffer social anxiety and panic attacks (such as Post-Traumatic Stress Disorder [PTSD] patients), diabetics, and those with Alzheimer disease. It has also been shown to stimulate bone growth, making it a possible treatment for broken bones and those suffering osteoporosis and related diseases. In addition, THCV may be a useful antipsychotic for those suffering mental diseases. 
The most striking characteristic of THCV, however, is its ability to suppress appetite. This ability may benefit those suffering obesity and other weight or metabolism issues. Because THCV is only mildly psychoactive (especially when not combined with THC, as in some broad-spectrum products), it can typically be tolerated during the day and in work settings (where the enhanced psychotropic effects of THC may be undesired).  
The Studies 
A 2016 human trials research study entitled "Efficacy and Safety of Cannabidiol and Tetrahydrocannabivarin in Patients with Type 2 Diabetes: A Randomized, Double-Blind, Placebo-Controlled, Parallel Group Pilot Study" that was published in the journal Diabetes Care found that THCV was markedly more effective in decreasing fasting plasma glucose in comparison to a placebo and that it improved pancreatic function. 
The study also revealed that CBD and THCV were well tolerated by participants. Its authors concluded, "THCV could represent a new therapeutic agent in glycemic control in subjects with type 2 diabetes." 
A 2015 study entitled "The Phytocannabinoid, Δ9-Tetrahydrocannabivarin, Can Produce Antipsychotic Effects" that was published in the British Journal of Pharmacology and performed on rats researched THCV's ability to reduce the symptoms of psychosis, specifically schizophrenia. Reported the researchers, "THCV…reduced stereotyped behaviour…and normalized hyperlocomotor activity, social behaviour, and cognitive performance." 
Summarized the study's authors, "We conclude that THCV has therapeutic potential for ameliorating some of the negative, cognitive, and positive symptoms of schizophrenia."
A 2010 study entitled "The Plant Cannabinoid Δ9‐Tetrahydrocannabivarin Can Decrease Signs of Inflammation and Inflammatory Pain" that was published in the British Journal of Pharmacology investigated the ability of THCV to reduce inflammation and pain. 
The study's authors concluded that THCV interacts with both major cellular receptor types in the endocannabinoid system (CB1, mostly in the brain and central nervous system and CB2, in the tissues and glands of the immune system throughout the body). Wrote the researchers, "THCV can activate CB2 receptors in vitro and decrease signs of inflammation and inflammatory pain in mice, partly via CB1 and/or CB2 receptor activation." 
Another 2010 study entitled "Δ⁹-Tetrahydrocannabivarin Suppresses In Vitro Epileptiform and In Vivo Seizure Activity" that was published in the journal Epilepsia investigated the anticonvulsant properties of THCV and its potential role in the treatment of seizure disorders such as epilepsy and Dravet Syndrome. 
The study found that "THCV significantly reduced seizure incidence." The study's authors concluded that THCV can be employed to combat seizure activity in diseases such as epilepsy. They reported, "Δ⁹-THCV exerts antiepileptiform and anticonvulsant properties, actions that are consistent with a CB1 receptor-mediated mechanism, and suggest possible therapeutic application in the treatment of pathophysiologic hyperexcitability states."